Here is a special guest blog from our favorite mum over the pond in the UK, Katie Keith. Katie is an expert on the life and times of raising a 2 year old. In this blog, she shares her tips on all things toys for two year olds.
If you're struggling to buy a toy for a 2 year old, you're not alone. Parents, friends and relatives worldwide find it notoriously difficult to buy toys for. In this guest post for Play, I'll help you understand why, and then show you how to overcome the pitfalls and buy great toys growing child.

Why 2 Year Olds Are a Nightmare to Buy For
They are changing so quickly
Children between the ages of 2 and 3 are growing up fast. It's a lovely age as 2 year olds are proper little people now. They're learning new skills every day. This makes it really hard to buy toys for 2 year olds. You want to buy toys that they'll enjoy now and won't grow out of straight away. Ideally, you want toys that will grow with them. Although their attention span is improving, they still like to move between different activities. It's not easy to find a toy that will keep them occupied for more than a few minutes!

2 year olds are grown up, but not that grown up!
It's an awkward stage in terms of finding suitable toys. They tend to have outgrown the more babyish toys they used to enjoy. But they're not yet ready for the toys aimed at older children. Outdoor toys are a good example. The days of baby walkers are long gone. But most outdoor play equipment and ride-on toys are too big or difficult for the average 2 year old. Slides and climbing frames tend to be too big and won't protect them from falling. Most trikes and ride-on cars are too fast or large for the average child this age. It's an in-between stage in many ways, making it hard to find toys that bridge the gap.

Tips for Buying Toys For 2 Year Olds
Don't despair! By understanding what makes your child tick, you can buy some great toys they'll love. The trick is to understand where your child is in their development and how this affects the toys they'll enjoy. You don't need to get all scientific about it. Understanding the basic principles will do wonders, and you can match up toys with your child's current stage.

2 year olds love making order of the world
By their 2nd birthday, most children will have a good understanding of cause and effect. They know they can change the world around them. Surprisingly, it takes a long time before a child can trust 100% that the world is as they expect. They have to do the same thing many times in order to truly believe that (a) will always cause (b) and never (c). That's why 2 year olds love doing the same thing over and over again (as many parent will know!). Rather than being annoyed by their behavior, you can use this as an opportunity to buy the right toys for them. 2 year olds can be very logical and love making sure everything is in order, putting things in categories etc.

Logical games and puzzles are great for children this age. As well as providing an outlet for their desire to repeat everything and put things in order, they help to develop their manipulative and visual skills. Some good puzzles for 2 year olds are:
• Building blocks
• Shape form boards (i.e. the wooden boards with different shapes cut out)
• Very simply jigsaws (up to 6-9 large pieces)
• Categorisation and sorting such as shape sorters and stacking rings

They love being active and independent
2 year olds are proper little toddlers. They're getting more confident on their feet and may be starting to run and jump. Most love toys that foster their new-found mobility. Although they can still be clingy, they are gradually becoming more independent. As long as they know where you are, they're getting keener to explore their environment and venture further and further from their parents or carers. Any toys that can help with this are a good bet! Some great examples include:
• A nice soft ball (either football or tennis ball sized) - ball games are a great way to run around and burn off energy. Many children of this age are starting to learn to throw, bounce or kick a ball, and they love running back and forth when you throw it. They'll run after it and may hold out their hands to try to catch the ball.
• A small balance bike or toddler trike without pedals that allows them to push themselves along.
• A toddler slide or climbing frame advertised as being suitable for 2 year olds - they will have loads of fun climbing the easy steps, manoeuvring themselves into position at the top and then sliding down. And then doing it again, again and again! And then pushing all their toys down the slide, too!

Hide and seek toys for 2 year olds
At this age children understand that things still exist even if they're out of sight. They love putting this knowledge into practice with hide and seek toys. These are an extension of games that 2 year olds often initiate such as hiding behind their hands and then peeping out while laughing, hiding their hands behind their back or hiding a toy.
• Wendy houses with windows are a great opportunity for hide and seek. They don't have to be expensive - a big cardboard box with cut out windows is just as good, and 2 year olds will love 'decorating' it with crayons!
• Tunnels are great fun to crawl through, especially if they have peep holes along the way.

Toys to engage a 2 year old's imagination
Now they understand the difference between fantasy and reality, pretend play toys are a real winner with most 2 year olds. The average child this age is learning that one object can represent another, which paves the way for a wide range of imaginative play. In the early stages of their pretend play, I suggest toys that allow children to mimic their everyday world - dolls, cars, toy farms etc. For children who are just starting to do pretend play, I recommend keeping things simple. All they need is a dolly and they'll do the rest - lying them down on the floor to 'sleep', putting various objects against their mouths to 'eat', and so on.

As a 2 year old's pretend play becomes more established, it becomes more and more accurate. By now, they might enjoy imaginative toys that allow them to play in more detail. If you want to splash out a bigger toy such as a play kitchen is a great gift (most - but not all - are only approved for children aged 3 and over, so you might have to look around a bit). As they get more advanced again, they'll start enjoying more abstract make-believe toys such as playing with dragons and fairies.

I believe that 2 year olds enjoy mimicking the things they see every day. For this reason, I think that traditionally 'girly' toys such as dolls are suitable for boys as well as girls. If you don't want to buy a doll then there are plenty of other options such as cars or farm animals. If you're not sure what stage your child is at, the safest option is to focus on everyday pretend play toys. They'll continue enjoying these toys for years to come, as they can grow with the child and be used for ever-more complex games.

So, are 2 year olds really that hard to buy for?
For most people, knowing what toys to buy a 2 year old isn't immediately obvious. By understanding a bit about where 2 year olds are in their development, you can find toys that will appeal to them both now and as they get older.
Contributed by
Katie Keith
Best Toys for 2 Year Olds


Katie is owner of the Best Toys for 2 Year Old blog and online shop. She also has a 2 year old daughter called Sophia. Katie and her family live on Dartmoor in South West England. After graduating from university in 2002, she spent 7 years working for her local council's Children's Services. Since becoming a mum, she now works from home running 'Best Toys for 2 Year Old' as well as a WordPress web design agency called Barn2 Media.

Website

Visit Katie On...

Related Products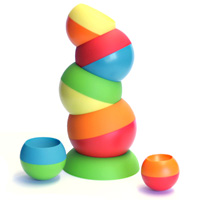 Tobbles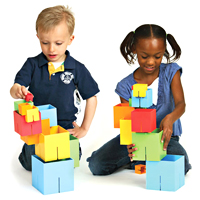 Dado Cubes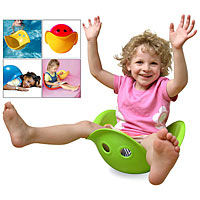 bilibo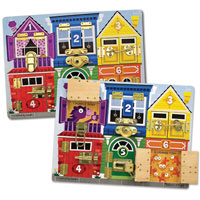 Latches Board