Gardening may be the perfect childen's activity. The combination of dirt, learning, and the exploration of nature makes it a great outdoor activity. In one Boca Raton, Florida elementary school the students and staff teamed up to build and maintain a garden to teach tolerance. For more information on this garden project visit kidsgardening.org.

Building awareness about bullying and intolerance had long been woven into the fabric of the curriculum and student life at Whispering Pines Elementary School in Boca Raton, Florida. So when the terrorist attacks occurred on September 11, 2001, Speech-Language pathologist B.J. Saul saw an opportunity. "Some staff members and I had already been thinking about reviving a weedy site where pre-K classes used to grow vegetables and flowers," says B.J. "During those troubled times, the group thought a garden offered a good opportunity – a structured venue – to return to this spirit to honor tolerance and promote friendship."

Getting Started... And Re-Started
With a vision of creating a 9/11 memorial Friendship and Tolerance garden, the team sent out notices to staff, parents, and other community members. They explained their rationale and asked for small donations of only $5. These came rolling in along with loads of plants. Even children dug in to donate. With additional support from the PTA, design help from a Master Gardener, and discounted materials from Home Depot, the living sanctuary came to life in 2002.
The group invited everyone who had donated money or plants to the garden to make a handprint on one of the stepping stones that formed a garden path. A parent volunteer had students dip their hands in terra cotta paints and then imprint them on the stones. Names were added and each donor offered a wish for tolerance and peace. "We ended up with four handprints on each of 85 stones," says B.J. She then used a water sealant to protect the paint; each year she goes over the names with black paint and re-seals the pavers. A copper plaque announces that the friendship and tolerance garden was created in memory of the 9/11 tragedy. In fact, the garden was officially recognized by the U.S. Forest Service as a Living Memorial Project.

"We looked for native plants from Florida, which we knew would be low maintenance," says B.J. The garden eventually sported a butterfly sanctuary (complete with milkweed passion vine, pentas, and more), a gold ficus tree in the middle, and cocoa plums around the outside. A garden club of 40 students sprung up to tend and maintain the garden. In addition, says B.J., "Every student who donated in any way received a certificate and acknowledgement on morning announcements and the in-house TV station, so everyone at school felt that it was their garden.
Sadly, when a hurricane hit the site in 2005, it ripped out the paving stones, tree, and fence. Undaunted, B.J. organized students and parents who, with help from Boca Raton Garden Club and local businesses, rebuilt and replanted the sanctuary, giving it a new look. Four years later school construction again threatened the garden site, a call for help went out. This time, kids, parents, a boy scout troop, and faculty joined together on two weekends to move the 85 heavy stepping stones to a brand new site.
The third iteration of the garden, set in the middle of campus, is open and easily viewed by all students. In addition to a teaching area, it features four distinct sections: a butterfly sanctuary, a wildflower area inspired by a grant from the Florida Wildflower Foundation, a vegetable garden to feed the needy, and an "eclectic" area where students celebrate a diverse mix of plants that thrive together. "Students are always welcome to plant flowers in this fourth area, which gives them an opportunity to reflect on their friendships," says B.J.

Life and Academic Lessons Blossom
At the outset, 9/11 memorial lessons took shape in the garden. "Teachers of younger students read books such as September 12 and One Fish, Two Fish, Red Fish, Blue Fish," says B.J. They reflected on what they read, heard, and knew; discussed the need to treat people nicely and respect them; and drew pictures about friendship.
Older students continue to learn about and remember 9/11, but the emphasis has since gone far beyond that one event. "From kindergarten on up, we focus on friendship, eliminating prejudice, and anti-bullying," says B.J. In younger grades, that might mean reading relevant books in the garden, cooperating to do garden tasks, or exploring how a diversity of plants – like people – can thrive together in a small space. Older grades move into holocaust studies, reading books such as I Never Saw Another Butterfly (poetry written by youngsters in a concentration camp), Daniel's Story, and Number the Stars. This year, fifth graders will host a holocaust survivor and bring him or her out to the garden.

"Be an upstander and not a bystander" is a school motto that is firmly embedded in garden-related activities, says B.J. To put flesh to the idea, students annually raise lettuce, tomatoes, cucumbers, pumpkins, and other edibles to donate to agencies that serve the needy. Being featured in the newspaper for doing so boosts student engagement and reinforces the importance of their effort.

Honing in on caterpillars helps students throughout the school learn about transformation, renewal, and caring for the natural world – not to mention key science concepts. The Very Hungry Caterpillar sets the stage. Students then gather these garden denizens to raise in class along with plants on which they've observed the creatures feeding. The real thrill for the students, says one teacher, is returning to the garden to release the adult butterflies that hatched under their care. "The garden, which kids pass every day, becomes a constant visual reminder to be friends to each other and the natural world," says B.J.

Mentors and Youngsters Grow Together
Several years back, teachers from the elementary school teamed up with a high school Key Club to create what they dubbed the Growing Friendship mentoring program. The goal was to engage older students as mentors to younger ones during explorations of bullying, stereotyping, and cultural intolerance. A teacher facilitated the two-hour sessions each Friday afternoon. "The older students kept the fifth graders on track as they watched videos and did skits and other activities, such as finding examples of intolerance in current events," says B.J. She adds that the kid-to-kid component made these particularly meaningful. What's more, the teens not only learned the same life skills as their young charges, but they also gleaned how to teach others the correct way to act. Both age groups had a chance to shine as they staged a spring show in the garden for parents, administrators, and community guests. The young actors shared relevant songs and reports and planted a symbolic flower of friendship.
Contributed by
Fat Brain Toys


Fat Brain Toys is a leading retailer and developer of specialty toys & games.

Website

Visit Fat Brain Toys On...

Related Products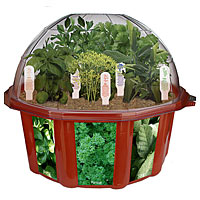 Culinary Herb Garden Dome Terrarium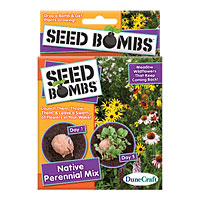 Seed Bombs - Native Perennial Mix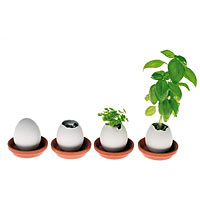 Eggling