OK...first, a little background on myself. As a boy I loved three things, my bike, my LEGOs and drawing. I have a Bachelor's in graphic design. I don't consider myself an artist, but pens and markers are all I've ever wanted for Christmas.

It was 2007, my second year of college, when a professor posted a small design ad on the job board for an online toy store. Being a giant kid at heart, I thought "Dream Job," and snatched it off the wall before too many other students saw it.

When I walked in for the interview I had absolutely no idea what to expect. Was I about to meet some nutty Willy Wonka, or a Tom Hanks, "Big" kind of guy?

"Hi I'm Mark" he said, in the most unintimidating way. I found myself shaking hands with the most normal jeans & t-shirt guy ever. Hardly what I expected in a job interview. He told me all about the start up of Fat Brain Toys. It was perfect. He basically started a little website project for his son that filled his garage with toys, and eventually outgrew a couple small warehouses. This guy had even made a toy of his own!

When Mark described his company as a specialty toy company, I had no clue what that was. I had never heard that term before. When I asked what a "specialty toy" was, he basically told me what it's not. "It's not licensed such as Batman, SpongeBob or Dora. It's not video games or violent. It's not mass produced, or in the big box WalMarts or Targets. Specialty toys are however, safe, educational, and designed to encourage a child to think and develop," (or at least that's what I took away from it.)

I instantly knew I would love working for Mark, and I've been with Fat Brain Toys ever since.

Years later and tons of toy photos, uploaded toy images, foam core projects, ads, catalogs, fun events - and now I'm part of a team of great people who help create specialty toys from square one! Needless to say I still LOVE my job!

Every February, I get the privilege to attend the International Toy Fair in New York with the team. I know what you're thinking..."that has to be the coolest place for anyone who still has a little piece of childhood in their heart!"

Yes, It truly is. However, it's also an interesting look into the entire toy industry.

I was a bit surprised by what I found in that first trip. The first thing I noticed was there were no kids. The second was the overwhelming amount of suits - so many salesmen. At times you could lose focus on the toys and feel like you're at an insurance convention.

I was shocked the first time someone mentioned price margins and profit gains before they told me anything about how to play the kids' game I was interested in.

Don't get me wrong, there are lots of great toy companies making wonderful
products for kids, driven completely by the passion to challenge a child's mind. But, when I am at the event, it's hard not to notice that some of the household name branded toys that we're all familiar with, and grew up loving, seem to be driven by the passion of how much YOU are willing to spend for your children.

I do not have any kids, but let's be real. Kids are easily influenced. It's not that hard to get kids so excited about something that they feel they absolutely need to have it. That is why the toy industry is so big! No parent wants to tell their child they can't have something.

It took a few visits to Toy Fair, seven years of learning, and being a part of the Specialty Toy market, to fully understand what a specialty toy store is! Too me, it is hands down, a place to find those toys that you as a parent, want your child to want.

When a child learns, mentally grows, or benefits from a toy, that is a good thing. When that child doesn't know they're learning, and is just having fun... That is a better thing. That might just be the perfect toy! I think this is the idea Mark was trying to share at our first meeting.

Three years ago at Toy Fair I was introduced to Alex Hochstrasser, the designer and inventor of Bilibo.

Alex had personally designed one of the hottest toys of the time. His toy, Bilibo, is simply a large bowl that kids play with. Most adults see it for the first time and think it's completely silly. I've witnessed this many times. The truth is, kids love it. There are just so many things kids instantly and naturally do with it. Bilibo is fun to sit in, spin, rock back and forth, stand on, jump on, carry things in, use as a sled, tie a rope on, and pull, bring to the pool or sandbox... the list goes on.

Alex told me a great story about a zoo experience. They let a monkey play with Bilibo, and the monkey did the exact same things children do with it. I'm not relating children with monkeys, I'm just saying this toy is wonderfully designed for play.

As a designer - in my opinion, the best thing about Bilibo is its simple elegant beauty. It looks like some kind of cool sculpture in a modern art museum.

Here is the best part. Bilibo was released in the "specialty" toy market. Why? because it was designed to be so simple, yet so intuitive that a child doesn't think twice about how to use it. Every time a child picks one up, they instantly have their own creative idea!

A specialty toy is designed to benefit a child's growing developmental skills, while being fun and engaging at the same time.

As part of a team that develops toys and games, I am proud to say that this concept is the core element to every single product we have brought to the market. If a project veers from this genuine basis - as a team, we are not afraid too start over, or even abandon the project... We have before.

We do not want to waste your time, your child's time, or even worst...your time together.

During the design and development of Tobbles Neo, a series of uniquely weighted stacking balls, developing a young child's concept of balance was the number one focus from start to finish. We spent months experimenting with different weight options in each piece, and different textures, all to get that perfect balance we were looking for. On top of the mechanics, hundreds of color options were discussed every week, until we were all happy with the look. But, all those design options were second stage to the focus... teaching a young toddler balancing skills, while they have fun stacking the balls.

Every day, as a team at Fat Brain Toy Co, we remind ourselves that we developing a specialty toy, and to us, the most "Special" part of all of it is your special child.
Contributed by
Kevin Mathis
Fat Brain Toys


Kevin has been an artist for Fat Brain Toys for seven years. Kevin is a master fisherman and is famous in Elkhorn, NE and West Omaha. His spirit animal is a catfish.


Related Products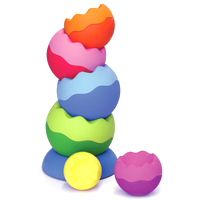 Tobbles Neo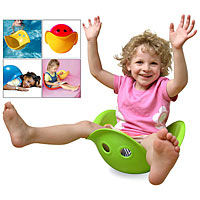 bilibo