We know how hard it can be to get your child prepared to begin preschool. We have provided a few educational items to help you enhance your child's preparedness. Don't stress, these three fantastic products will make learning fun for any child.

Smarty Blocks is one of the best choices to get (and keep) your child's minds active. This game will be a great tool now and down the road when they start reading. The lower-level challenge cards present a picture that your child must try and copy in less than one minute. When your child is a little older and has started reading, have them try the higher-level challenge cards, which requires some reading. Smarty Blocks was designed by educators and targets the interests of young children. Kids are happy to get playing with the blocks that have animal graphics, alphabet letters, numbers, and colors! This game is for speedy little skill builders for growing minds!

Looking to give your preschool age children a jump-start on measurement and basic math? Take them on a mathematical safari adventure with Inchimals! These math blocks are incredibly effective in teaching measurement, number concepts, addition, subtraction, and pre-algebra for many ages. Inchimals is a multi-purpose toy that encourages creativity, interaction, logic, and mathematics mastery. Introduce this toy to your little one and they can be a basic math and measuring whiz in no time!

Encourage counting and language skills with cute graphics on educational cards that teach. These touch, feel, and learn flash cards have children learning and remembering more. Touch & Feel Cards are kid tested and teacher approved! Each double-sided card has a different texture to help children identify what they see; the backside is filled with interactive activities for a parent and child to explore together. These cards are a great way to start your child's library!



Toy Details and Descriptions
Smarty Blocks: Children have one minute to complete as many challenges as possible. This fast-paced game boosts reading, spelling, sequencing, math, logic, visual spatial skills and more! Perfect for readers and non-readers alike, designed by educators, Smarty Blocks target the interests of young children. Darling animal graphics, alphabet letters, numbers and colors – kids are happy to get playing! From simple stacking puzzles, children advance to sequencing, reading, spelling, and logic cards. Smarty Blocks build a solid foundation for academic success!

Inchimals: Inchimals are incredibly effective math blocks that teach measurement, number concept, addition, subtraction, and pre-algebra! Ideal for many ages of children. Beautifully crafted, thoughtfully designed, Inchimals are 12 wooden animal blocks measuring 1" (the tiny ladybug) to 12" (the towering giraffe). With exact inch segments, written numerals, representative dots, and cute animals too - this learning toy is a sure winner.

Touch & Feel Cards: Touch, feel & learn flash cards! Small children look wide-eyed, grin happily, and reach longingly for cute, bright, textured cards. Teacher & kid tested! Brilliant attractive graphics. Wide variety of textures delight. Counting & language tools. Many interactive activities for parent & child. Well-designed, Highly durable. Includes storage box.
Contributed by
Fat Brain Toys


Fat Brain Toys is a leading retailer and developer of specialty toys & games.

Website

Visit Fat Brain Toys On...

Related Products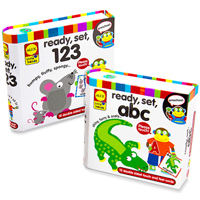 Touch & Feel Cards

Inchimals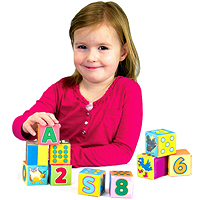 Smarty Blocks