What does playtime look like in your household? Being a mom of two boys, ages 3 & 6, I have witnessed many different styles of play over the years.

Sometimes it's the low key kind of play in which my boys are doing anything from coloring/drawing to caring for their "sick" stuffed animals. Other times they are engaging in the wild, crazy, you'd-be-smart-to-grab-a-helmet kind of play. Sometimes it starts out as coloring and ends up in a wrestling match.

Out of all the ways I have witnessed my kids play, as a mom, I think the best kind of play is imaginative play. We've all been there…you spend months trying to find the best Christmas gift your child could possibly imagine, only to find that they are more interested in the box it came in, than the gift itself. You might find yourself furiously pulling out the instructions and saying, "No, no, no, you're supposed to set the toy up like this and start with the little piece on this side…"only to realize that you've already achieved your original goal – your child is having a blast with the toy you gave him, even if he isn't playing with it the "right" way. Its times like this, when you find a cool toy, throw away the instructions, and let your child create his own rule book for the toy or game. You might find them having more fun and even learning some interesting things in the process.

For example… at first glance in our backyard most of you would see a swing set. However, to my boys that is no ordinary swing set, but rather a castle. And if you're not careful while walking around the castle, you will be sucked into a giant pool of hot lava and be eaten by a dragon.

While I admit that this kind of play can get a little crazy and sometimes downright frightening, engaging in this kind of play helps kids make sense of the world. It also helps improve many developmental skills, such as social skills. You can be certain that my two boys often have two very different ideas about what and how they should play. Through imaginative play they learn to compromise, and meet in the middle (ok, they're a work in progress).

I've found that it helps to apply the "using your imagination" principle even when it comes to playing board games. My boys can sometimes be turned off by strict rules. When you start out the game by demanding you must do this, this and this, it squelches their imagination and can sometimes become more of a chore than the lighthearted activity it is intended to be. Change up the rules a bit and figure it out as you go. I'm not saying you should encourage your child to cheat. Keep the rules fair for everyone. Believe me, if I entertained every idea my oldest son had, my youngest son would never have a turn. Also, make sure they know that if they are playing a game at school, etc., that they need to abide by the rules set forth there. My husband and I got a good laugh one time when our oldest son came home and was disgruntled because he had played a game at school and, "they didn't play it the right way."

So go ahead, don't be afraid to let their imaginations run wild!
Contributed by
Brooke Wheeler


Brooke Wheeler is married with two young children. She is a stay-at-home mom who lives in the Omaha, NE area. She writes about fun family activities, recipes, crafts, and more, on her blog thewheelerweekly.com.

Website

Visit Brooke On...

Related Products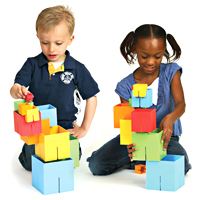 Dado Cubes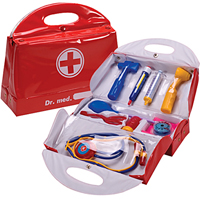 Doctor's Bag