A few weeks ago I was invited to speak at a teacher appreciation event at the nearby Strategic Air & Space Museum. While they wanted me to focus on the subject of creativity, this was also my chance to salute a few special teachers in my life. I'm recapping my speech here as a salute to ALL teachers and the enormous impact you have on our children.


I was born and raised in Scribner, Nebraska, a town of 900 people in the Northeast corner of the state. Ironically, even though I was from a community of less than 1,000 people, I was regarded as a "city kid" because I didn't grow up on a farm! My dad was the postmaster. My mom was my kindergarten teacher. My graduating class had 20 kids in it, if you include Luis, the exchange student! My graduating class also included my lovely wife Karen.

My point is...I attended a small school, in a small town, in a state with a small population. While I did have big dreams, I must admit I was always intimidated by size. I remember thinking to myself in high school, "how can I possibly compete out there in the world when I come from this tiny little town in this often forgotten little state." I'm not sure where I had adopted this defeatist outlook, but it was a dark shadow that had the potential to hold me back from achieving my full potential.

Fast forward 26 years to February 2013. This is a photo of me on a stage in Nuremberg, Germany. I'm the bedazzled onlooker second from the left. I was there accepting a Toy of the Year award at the largest toy show in the world. On stage with me were several of the biggest names in the toy industry.

How did this happen? How did I get from Scribner, Nebraska all the way to Nuremberg, Germany? How did I overcome my insecurities and intimidation?

It started with a tiny spark. But I'm here to tell you that big fires can start from even a tiny spark.

Flash back with me once again to 1986. My industrial arts teacher, Steve Winscot, had petitioned the superintendent to purchase a high tech piece of equipment for his drafting class. He had requested a CAD system, short for Computer Aided Design. Even though it must have cost a fortune in those days, the school board approved the purchase and Mr. Winscot was able to equip his classroom with an Apple IIe, AutoCAD software, and a pen plotter. Keep in mind, in 1986 computers were not all that common in classrooms, and especially not in industrial arts classrooms. For reference, that same year I was taking a typing class in which I used a manual typewriter!

Lucky for me, I enrolled in that inaugural computer drafting class...me and, well, it was just me. For one period each day, Mr. Winscot and I would sit together behind the green glow of the monitor and learn computer aided design together. I enjoyed it so much that most days I would leave my study hall and spend another hour exploring the wonders of computer-based design. There was a spark. I didn't understand the magnitude at that time, but I had the sense that I was doing something meaningful, something that had an impact far beyond my classroom of one.

I'm not sure if it was my incessant whining or my older brother's suggestion, but later that year my mom plunked down what must have been an enormous amount of money to buy me my very own Apple IIe. I loved that thing! Yes, I played lots of games, but I also created my very first spreadsheets and created stunning 8-bit black and white masterpieces. I even committed heresy by printing my graduation thank you notes with my dot matrix printer. Yes, I was quite the rebel.

It's safe to say that by this time that spark had ignited a fire in me. I had no idea where it would lead, but for the first time in my life I had discovered that I had a real knack for something. But it wasn't just a love of technology. I had discovered that with the proper inspiration, I could dream a little bigger. And it didn't really matter what I ultimately did professionally. And trust me, I've tried many different things. But the key insight was that my self-imposed ceiling had been lifted, or at least raised, and I realized that maybe, just maybe, that my dreams were limited only by my creativity.

...limited only by my creativity.

I'd like to focus on that notion for a moment...on how important creativity is to me...to you...and the students you interact with. But I want to make a clear distinction between "creative" and "artistic" - as they are often confused as one in the same. While "artistic" generally refers to an aesthetic sense, "creativity" is defined as originality of thought.

But I have a question for you. Does anyone have an advantage when it comes to being creative? Is a child from a disadvantaged home less apt to be creative than one that comes from a privileged home? Is someone from a farm in O'Neill, Nebraska inherently less creative than someone living in a high rise apartment in New York City? Of course not!

Creativity is found in the rich and the poor. Creativity is color blind and gender indifferent. And of particular importance to you and I, creativity has no borders.

Simply put, creativity is what brought me and my team to Nuremberg, Germany. With a small team of Nebraska natives (and one rogue Wisconsinite), Fat Brain Toys has been able to compete and WIN on the world stage. We don't have deep pockets, none of us has a Harvard MBA, and we don't have offices in Silicon Valley. But despite all those things, we continue to crank out innovative toys and games that compete with the best toy companies in the world.

There may have been a time when geography dictated one's ability to compete in the global marketplace, but today, so many of those barriers have been removed. For example...

In the 1970's, if you wanted to print a full color poster, where you lived was a real barrier since it required photography studios, typographers, and expensive 4-color offset printing. Today, not only can you take high resolution color photos (with a phone!), you can design it on your own PC (or tablet) and print it to a high speed color laser printer...virtually anywhere.

In the 1980's, your knowledge of a particular subject might be limited by how big your local library was. Small library, small number of resources. Large library, large number of resources. Today, with the advent of the Internet, the history of the world is simply a few Google searches away. Oh, and if something new comes around, you have virtually instant access to all the world knowledge on that subject. Doesn't matter if I'm at my computer in Elkhorn or Seattle or Singapore, the information is just as accessible.

In the 1990's, if I wanted to build a functional prototype of a toy, I would need to go through an elaborate design process to have one created from a CNC or expensive plastic injection moulding. Today, I could have a 3D printer on my desk materialize the item before my very eyes.

Ten years ago, my computing power was limited by the size of the computer I could purchase. Today, from virtually any location in the world, cloud computing can be unleashed upon the most computational intensive problem known to man.

Yes indeed, it's a VERY interesting age we live in. But as these barriers have melted away, creativity has taken center stage. Are you keeping pace? Are your students feeling like I did...that they're at a disadvantage compared to kids in a bigger school or a bigger city?

They need to know, YOU need to know, IT DOESN'T MATTER. The future belongs to the creative...and creativity is alive and well WHEREVER YOU LIVE!

Even though you likely don't have classes on creativity at your school, there are certain things that you can do to instill creativity in the heart of every student. I'm certainly no expert in the field of education, but my experiences have taught me a few valuable things about creativity:
You may not be able to teach creativity, but you can teach curiosity. Learning is much more than just "what", it's also the "why's" and the "how's". Engage your students in two-way dialogs that root out the stories behind the lessons.
Encourage every student to be an inventor. Each of us is born with a natural inventiveness, but like other creative endeavors, it's often beaten out of us by pre-conceived notions of what something should be. Celebrate original thought and reward creative approaches to solving a problem.
True understanding comes from doing. Whenever possible, step out of the text books and into hands on activities. A picture may be worth a thousand words, but an experience is priceless.
Creativity can't be measured, but it CAN be recognized and appreciated. I'm living proof of this. I wasn't a good student, but it didn't mean that I didn't have a zest for learning.
Necessity is the mother of invention. Present your students with bold, open-ended problems and see them rise to a creative challenge.
Throw out the instructions. As the saying goes, there's more than one way to skin a cat. Likewise, there are numerous ways to solve any problem. Getting rid of the instructions forces creative approaches to a solution.
You may have noticed that I mentioned "problem solving" no less than three times. That's one area, from the perspective of a toy company, that I feel we have a real crisis in this country. In our pre-packaged society, everything has already been spelled out for us, including our toys. In Europe, most toys come with limited instructions. You might get a few pictures, but the act of playing is also the act of figuring out how to recreate what you see. Contrast that with Americanized toys where most building sets are intended to build one model and one model only. What used to be baked into the toy itself, problem solving has since taken a back seat to convenience and mass consumerism.

That's an area where I personally take great pride as a toy company. From day one, Fat Brain Toys steered away from conventional wisdom. Instead of following the latest fads, we develop toys and games that entice kids to think creatively and require them to actually use their brain.

Together with parents and educators, our toys and games can be used as valuable tools to help our kids become great problem solvers. After all, there certainly will be no shortage of problems to solve in the future!

And who better to solve those problems than the very faces staring back at you from your classroom. Regardless of the size of your school's budget, whether your school district is rural or suburban, creativity is the great equalizer. It's there, it's in all of us, it's just waiting for someone to unleash it. Will it be you?

As an educator, you sit in a unique position of influence. Through your interactions throughout the year, you have the capability to light a spark in your students. You have the ability to inspire them in the way that I was inspired by Mr. Winscot. After all, sometimes all it takes is a little spark.
Contributed by
Mark Carson
Fat Brain Toys


Mark is the President & Co-Founder of Fat Brain Toys.

Website

Visit Mark On...


Read more from
Mark Carson...

Related Products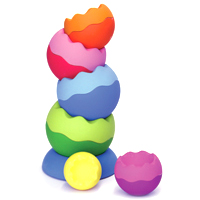 Tobbles Neo