Julie Schneider one of our favorite bloggers chimes in to our discussion on Why Toy Design Matters. Julie, author of The Preschool Engineer blog, shares with us how she experiences toy design and what a mom likes to see in design.
The right toy played with at the right time elicits the joy and wonder of learning. A well-designed toy is the right toy time and time again. It scaffolds different lessons at different times. A well-designed toy has lasting and evolving value in the eyes of a child (and his or her parent, too).

When I choose a toy for one, or both, of my children I consider a variety of things all of which are indicators of their value. I want toys that will hold Mikey's or Anna's attention and sustain their independent play. I want toys that inspire creativity. I want toys that are durable and versatile. If a toy seems like it was not designed with these qualities in mind then I am likely to pass it by. But I am merely a filter for unsalable (to me) humdrum junk. My son, who I refer to as a "preschool engineer," is the real critic.

For Mikey, the right toy is mechanically interesting. Anything with gears, wheels, cranks, funnels, or moving parts gets an automatic first pass. This is probably because mechanical toys can capture his attention and sustain it while he figures out how it works. He is undeniably expert in this type of work and can mentally master a mechanical toy quickly. A well-designed toy, however, is the right toy for Mikey in multiple circumstances. Case in point: the Plan Toys Baby Walker with Wood Blocks.

When Mikey was learning to walk, he seemed to think this walker was awesome. It had wheels, which we all know are amazingly awesome mechanical wonders. Plus, it was mechanically interesting because it would tip over if he tested the laws of physics just right. The cylinder blocks were also circular in one dimension, which made them very interesting to stack. The sound of a wooden avalanche was music to his ears. This toy captured and held his attention.

Three years later, we have used the blocks as toy phones, people, cars, food, cymbals, teethers, building blocks, and rubble in working trucks. Two cylinder blocks have been used as brushes of a pretend car wash and as "squashers" in an imaginary belly. The mower has been integrated with blankets to become the foundation of a conveyor belt. It has also been tipped up to be a slide in a pretend playground. It is a versatile toy – used over the years for a variety of play and lessons. It is durable toy – used in ways the manufacturers probably couldn't have imagined…or could they?

The only thing that a well-designed toy does not come with is time. It is up to you to give your child the time to investigate his or her new toy. Don't rush them through your ideas of how you think the toy ought to be played with. Just choose a well-designed toy, hand it over, and watch and wait. Then wait some more; give your son or your daughter time to grow tired of the new toy, to forget it, and rediscover it anew. A well-designed toy will endure.
Contributed by
Julie Schneider
Preschool Engineering


Julie Schneider writes a blog called "Preschool Engineer: Resources for inspiring mechanically-minded toddlers and preschoolers." She has been happily married to her husband Mike for 12 years and currently stays at home to raise their children, Mikey and Anna. As a family, they play at parks and children's museums, go tent camping, and explore the world. On her own, Julie reads, runs, practices yoga, and ruminates over all things beautiful and/or interesting.

Website

Visit Julie On...


Read more from
Julie Schneider...

Related Products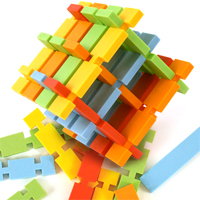 Dado Planks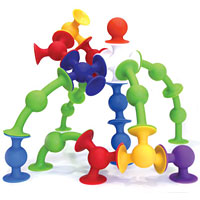 Squigz