As a Speech-Language Pathologist for almost 20 years, I have spent thousands of hours playing with children. However, as a working mother of two young boys, I know the challenges and juggling act that balancing work and family brings to a home. Kids want to play...all the time! They don't care if you are rushing out for a meeting or appointment at work, trying to do the mountain of laundry that has built up, or simply trying get yourself ready for the day while simultaneously packing backpacks, lunches, and refereeing a fight amongst siblings. As parents, we all want to see our children grow and flourish in every area of development and would do most anything to see this happen. Yet, there are thousands of toys on the market making the possibilities endless and overwhelming for parents to know exactly what to choose and what to do with these toys once you get them into your home. I have come up with a list of 5 simple activities that you can play in your home or when you're on the go with your toddler that require minimal out of pocket expense but will provide maximum fun and enjoyment. The added perk to these activities is all the learning that will be happening while your child is having a blast and basking in your attention.

1. Toobs:
Toobs are sleeves of manipulatives that come in all different categories. There are Toobs with farm pieces, transportation, zoo animals....you get the picture. These manipulatives are completely versatile and extremely portable. They can be used in conjunction with any activity that I will list below or simply on their own as a means of teaching your toddler new vocabulary. They can be modeled expressively, "This is a _____", or can be used for comprehension and identification, "Where is the ____?" They are colorful which appeals to a child's visual sense and the perfect size for small fingers to manipulate. These Toobs were an absolute lifesaver when my children were younger and we took them out to a restaurant during the pre-iPad and iPhone era, as they fit into any diaper bag and can be hidden under a napkin or glass for Peek-a-Boo, or set up into a mini play scene.

2. "Mystery Bag"
Mystery Bag is always a favorite in my office and my own kids used to love playing "What's mom got in the mystery bag?" All that's required to play this game is a pillowcase or any other type bag you have that can be closed at the top (drawstring laundry bags work great for this). This is an ideal game to play with your toddler when you are going through your morning routine, eating in a restaurant, or just have a child who has a short attention span and likes to tear apart every toy on the shelf in 2 minutes. The game is as simplistic as it sounds: put your desired objects in the bag and then have your child reach in with their eyes closed to pull out an item. After they've retrieved their item, they need to use all their senses to figure out what they are holding. This activity draws upon their sense of touch, smell, hearing, and requires some problem solving and reasoning as well depending upon which items you have placed in the bag. It is also an excellent language activity to help a child learn vocabulary and increase comprehension. For the working mom who is rushing to get everyone out the ?door and expedite the morning routine, a child's clothing for the day can be placed in the bag and whichever they pull out is what they put on first. Needless to say, if the shoes come out before the socks, you might have a few laughs getting dressed....but all part of the problem solving! In a restaurant, the manipulatives from the Toobs can be put into a smaller sized bag in order to play this game. This game can also be used as a way to narrow down a child's choice of activities so that they are not overwhelmed with an entire toy room. Other categories of items that can be placed in the mystery bag include, but are not limited to: farm animals, pictures of family members, zoo animals, vehicles and transportation, and pretend foods.

3. "I Spy...."
An oldie but always a goodie for young children. This game is especially engaging for children if they get to wear a pair of pretend glasses or sunglasses. It requires no materials and can be played anytime, anywhere, and with anyone. This can also be played as a way to get your child to help you do a task that they might normally resist: "I spy with my little eye a pair of shoes. Can you find them and bring them to me?" When you play the game like this, you are working on a child's ability to listen to the speaker, use their eyes to search, and follow a multi-step direction. If they are wearing their glasses and can do what you've stated, they are "great detectives!" It is also highly engaging to play a game where a child has the ability to move around the room as movement is a way for a child to engage their sensory system and improve their motor skills such as running, hopping, etc....You could even ask your child to "jump" the shoes over to you! In the car, I Spy is a way to keep a child from becoming bored by a long drive as well as engage them in their surroundings. I Spy is a game that helps a child learn new vocabulary, verbs, adjectives, and can be modified based on a child's age, level, and ability. For example, a toddler might simply have to point when hearing "I spy shoes," but as they get a little older the cue could change to "I spy something you wear on your feet." Again, with a little creativity, this game can carry you for many years and many skills.

4. Hide and Seek
Again, a recurring theme that I rely on the old standby's to play with children! However, I have never met a child who didn't love a game of hide and seek. This game can also be played with many variations and adaptations. You can hide a person, toy, clothing item, food, etc....basically any manipulative can be hidden. This is a great game to play when you're rushing to get everyone out the door as all the items that they need to have can be hidden in fun places. It's also a great game to play if you're trying to keep your child occupied while you are busy cooking dinner, cleaning, or trying to have a phone conversation if you use a different variation. You could give your child a small bag and tell them a few items you want them to find in a specific room or area of your house. As they find the items, they can place them in the bag, and can "win" the game when everything is found. Believe it or not, the game of hide and seek has more educational merits than one would imagine. For starters, it works on many of the same goals that I have stated above such as vocabulary and following directions. However, it's an excellent physical game for toddlers and the constant movement provides an outlet for ?all that energy that keeps them going nonstop. Also, prepositional phrases can be taught and learned through this game: "Oh look! You found that car under the couch!" Be creative- this game is extremely versatile and never goes out of style.

5. Fishing
Make a fishing pole out of a stick, string, and a magnet or a piece of velcro and you have yourself a bonafide fishing game to play. This game can be played with any items in your home but it's especially easy and educational to play it using pictures or picture cards. You can purchase vocabulary cards, alphabet, numbers, or shape cards, or even make your own using pictures from a magazine and gluing them on index cards. This game is great fun for young children as they love the physical activity of using the fishing pole and it's also excellent for all the language purposes that I have talked about above. One other idea that I recommend to parents whose children I see, and is especially beneficial for working parents, is to "fish" for the day's activities. So for example, if you take photos of daily events (getting dressed, brushing teeth, eating meals, playing at the park, etc...), you can have your child fish for the items that they are going to participate in. As your day comes to an end and you wind down and spend quiet time together in the evening, you can sequence and talk about what you did both together and when you were apart. This is an excellent way to teach your child how to express ideas, talk about events, and sequence what came first, next, last. This activity engages a child physically, visually, cognitively, and auditorily. Once your child gets the hang of it, they may even be able to "fish" for the clutter in your house and put the items they "catch" in a "pail" (aka: garbage pail!).

As you can see, it is the most basic games- the ones you can make or play with everyday items in your home, that can enrich your child's development and their interpersonal skills as they engage with you and other family members in your home. Though you may be rushing in and out the door and trying to accomplish multiple tasks simultaneously, the games I have listed above can be quick and easy, adapted to various ages and abilities, and may even help make your everyday routines quicker and more efficient. Now let's just hope that hide and seek doesn't involve the keys to your car.....
Contributed by
Elise Duryea


Elise Duryea is a New York State Licensed Speech-Language Pathologist and Teacher of Speech and Hearing Handicap with a private practice on the Eastern End of Long Island. Since completing her Master of Arts at New York University 18 years ago, Elise has been providing a variety of speech and language services to children and adults. She works with children from birth through high school with Expressive and Receptive language disorders, Auditory Processing Disorders, Motor Speech and Articulation Disorders, Stuttering, and Oral Motor and Feeding issues. Elise is also a PROMPT certified clinician which enables her to utilize the therapeutic technique designed for individuals with motor speech disorders. In addition to her work with children, Elise provides parent training and consultation services on an individual basis to help parents learn what to expect with language and social development, how to enhance their child's skills in their homes, and what to do when developmental issues arise. Elise holds a Certificate of Clinical Competence (CCC) from the American Speech- Language Hearing Association (ASHA), and is a recipient of ASHA's ACE award for her commitment to continuing education. She resides in the Hamptons with her husband and two sons.

Website

Visit Elise On...


Read more from
Elise Duryea...

Related Products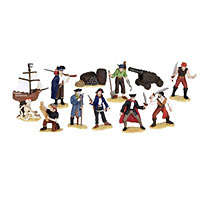 Pirates Toob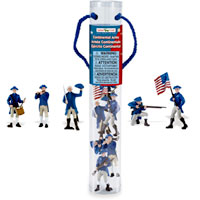 American Revolutionary War Continental Army Toob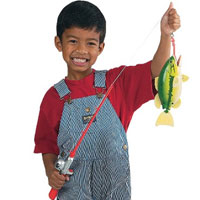 Catch of the Day